Description
https://www.theguardian.com/football/2016/jun/10/french-police-tactics-marseille-more-euro-2016-violence-expert
French police tactics could lead to more Euro 2016 violence: expert
Geoff Pearson, who advises British police, says the use of force as seen in Marseille is counterproductive
England football fans in violent clashes in Marseille
Friday 10 June 2016 14.59 BST Last modified on Friday 10 June 2016 18.57 BST
An expert on football hooliganism who witnessed violence involving England fans in Marseille on Thursday night has said heavy-handed police tactics contributed to the trouble.
Police used teargas, dogs and rubber bullets to break up a brawl between locals and England fans who had gathered at the Queen Victoria pub two days before England's opening Euro 2016 game.
Geoff Pearson, a senior lecturer in criminal law at the University of Manchester, who was observing the fans as part of a research project, said he feared worse violence if French riot police continued to be deployed to "break heads".
He said the use of "overwhelming force" he witnessed was counterproductive and at odds with a new approach to policing football fans that had largely succeeded in curbing violence.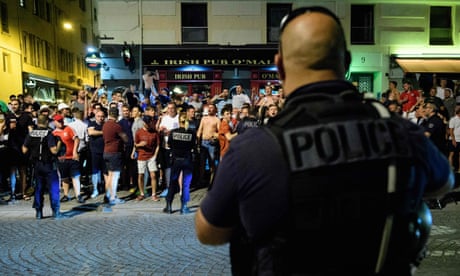 "It was the most predictable violence that I've seen since 2007 with Manchester United fans in Roma," Pearson told the Guardian. "I was on the quayside outside the Old Vic pub when the trouble started. There was an initial fracas between English fans and locals over tickets at around midnight. There was then the first use of pepper spray or teargas by the police.
"Then a group of what English fans were calling Marseille ultras, but I suspect were just local gangs, turned up. There was a small confrontation. I could see two or three chairs being thrown, someone tried to tip over a table and bottles were being thrown. There was then a completely disproportionate police response. I met an England fan who had been hit by a baton round, and actually had it in his hand.
"The disturbance then went down a side alley from the quayside to the main square. That's where most of the footage of the trouble has come from."
Pearson, who advises British police on how tackle football violence, described the police operation as a failure. He said: "My advice to the French police is heed what their European neighbour forces are doing in terms of changing how they police large crowd events … by positive interaction and engagement with fans.
"Your first interaction with a football fan shouldn't be firing teargas or raising your baton. If you have not had some kind of positive engagement with them beforehand, you have failed in your job as a police officer. I would certainly say that to the police officers I work with in the UK."
Pearson said he heard England fans shouting chants about Islamic State that could have been perceived as provocative.
"The English fans behaved as the English fans usually do. They get to a match event early and in big numbers, they get drunk and they sing. Most of the songs were pretty harmless. But there were a lot of songs about Isis. They were singing about Jihadi John getting a bomb on his head, and singing previous anti-IRA songs but changing IRA to Isis."
It was reported that fans chanted "Isis, where are you?" Pearson said: "I didn't hear that. It was that kind of chant that came up."
He added: "There are bad lads out here, as there are every time English teams play. And they have quite xenophobic and racist views. But these are a really small minority.
"The bigger question is how this really small group was allowed to go unchecked, and why the police felt their only response was to use baton rounds and teargas.
"There is a nothing-or-all approach from the French police. They stand back, they don't do anything until incidents develop and then they use overwhelming force. If they carry on like that there will be greater disorder in Marseille today.
"We are presumably going to see increased numbers of police whose job it is to break heads. If it is policed in the same way then I can only see a repeat but on an escalated scale."
Pearson contrasted French police tactics with operations that had succeeded in largely preventing football violence elsewhere in Europe.
"If you look at how football matches are policed in the UK and Germany and in Sweden, in all these areas the police interact with the fans before incidents occur. They are then able to identify potential troublemakers.
"They are able to set down tolerance limits and then if issues occur they have confidence to go back into that crowd and won't be seen by that crowd as the enemy," he said.
"I've absolutely no doubt the English police involved in helping the French police will be frustrated. I've seen incidents before in my research where intelligence officers from the English police have been advising their French counterparts and simply haven't been listened to."
Media coverage
| | |
| --- | --- |
| Title | The Guardian: "French police tactics could lead to more Euro 2016 violence: expert; Geoff Pearson, who advises British police, says the use of force as seen in Marseille is counterproductive" |
| Date | 10/06/16 |
| Persons | Geoff Pearson |