Personal profile
Overview
I'm a Reader in Nonlinear Dynamics in the Department of Mathematics and the Manchester Centre for Nonlinear Dynamics at the University of Manchester, UK.
My research interests are primarily in continuum mechanics, in particular in modelling the fluid and granular processes that occur in geophysical flows such as avalanches, debris flows and density/turbidity currents.
I am also the course director of the PhD in Applied Mathematics programme at Manchester. If you're interested in studying for a PhD in Applied Mathematics at Manchester, have a look at the maths postgraduate research pages and feel free to email me directly with any queries.
For further details on my research, see my personal academic webpage.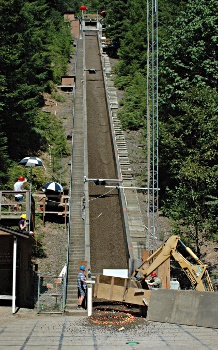 Opportunities
I am always pleased to hear from potential PhD students, to work on a range of projects in fluid and granular flows. Please get in touch if you might be interested in working with me. PhD funding is available.
Fingerprint
Dive into the research topics where Christopher Johnson is active. These topic labels come from the works of this person. Together they form a unique fingerprint.
Collaborations and top research areas from the last five years
Recent external collaboration on country/territory level. Dive into details by clicking on the dots or

Datasets
Gajjar, P. (Creator), Jorgensen, J. (Creator), Godinho, J. (Creator), Johnson, C. (Creator), Ramsey, A. (Creator) & Withers, P. (Creator), Zenodo, 20 Mar 2018

Dataset

Gray, N. (Creator), Edwards, A. (Creator), Johnson, C. (Creator), Rocha, F. (Creator) & Kokelaar, P. (Creator), University of Manchester Figshare, 4 Jan 2023

DOI: 10.48420/21747086, https://figshare.manchester.ac.uk/articles/media/Movies_for_the_Journal_of_Fluid_Mechanics_paper_on_Particle-size_segregation_in_self-channelized_granular_flows_/21747086

Dataset