Personal profile
Overview
Dr. Dongda Zhang is a University Lecturer at the Department of Chemical Engineering, the University of Manchester and an Honorary Research Fellow at the Centre for Process Systems Engineering, Imperial College London. His research group focuses on Digital Chemical Engineering, with primary interests in chemical and biochemical Process Systems Engineering, Reaction Engineering, Machine Learning, and Industrial Data Analytics. He is currently an Associate Editor for Digital Chemical Engineering, a member of Editorial Board of Biochemical Engineering Journal, a member of BBSRC Pool of Experts for Bioprocess Systems Engineering, and a member of the Industrial Management Board, Centre for Process Analytics and Control Technology (CPACT).
He holds BSc degree (2011) from Tianjin University and MSc (Distinction) degree (2013) from Imperial College London. He started his PhD research at the University of Cambridge in 2013, completed his research within 2 years, and graduated at the beginning of the third year after the University special approval for Thesis Early Submission. Upon the completion of his PhD in early 2016, he was invited by the Chinese Academy of Sciences and several universities for short research visits, and then moved to the Centre for Process Systems Engineering at Imperial College London as a postdoctoral research associate. In 2017, he was awarded the prestigious Leverhulme Early Career Fellowship at the University of Cambridge, followed by his appointment at the University of Manchester as a University Lecturer in the same year.
Research interests
My research group focuses on the development of methodologies and practical applications for industrially focused mathematical modelling and data analytical techniques, aimed at understanding and operating complex chemical and biochemical processes. We are interested in exploring how advanced 'digital technologies', particularly integrated through interpretable machine learning and data intelligence techniques, along with rigorous mathematical analysis and physical modelling approaches, can accelerate novel process development and automate industrial process manufacturing. The research activities of the group are multidisciplinary, combining Process Systems Engineering, Machine Learning, Reaction Engineering, Data Analytics, and Systems Biology. Our ongoing research projects include the kinetic modelling of catalytic reaction networks and metabolic reaction networks; real-time monitoring of batch processes, soft-sensing, online optimisation, and advanced control; industrial data analytics and visualisation; as well as multiscale modelling and upscaling of biochemical and formulation processes for biorenewable and fine chemicals production.
The three major research areas at this moment are:
Hybrid model based digital twins for bioprocess predictive modelling, optimisation, control, and metabolic network simulation.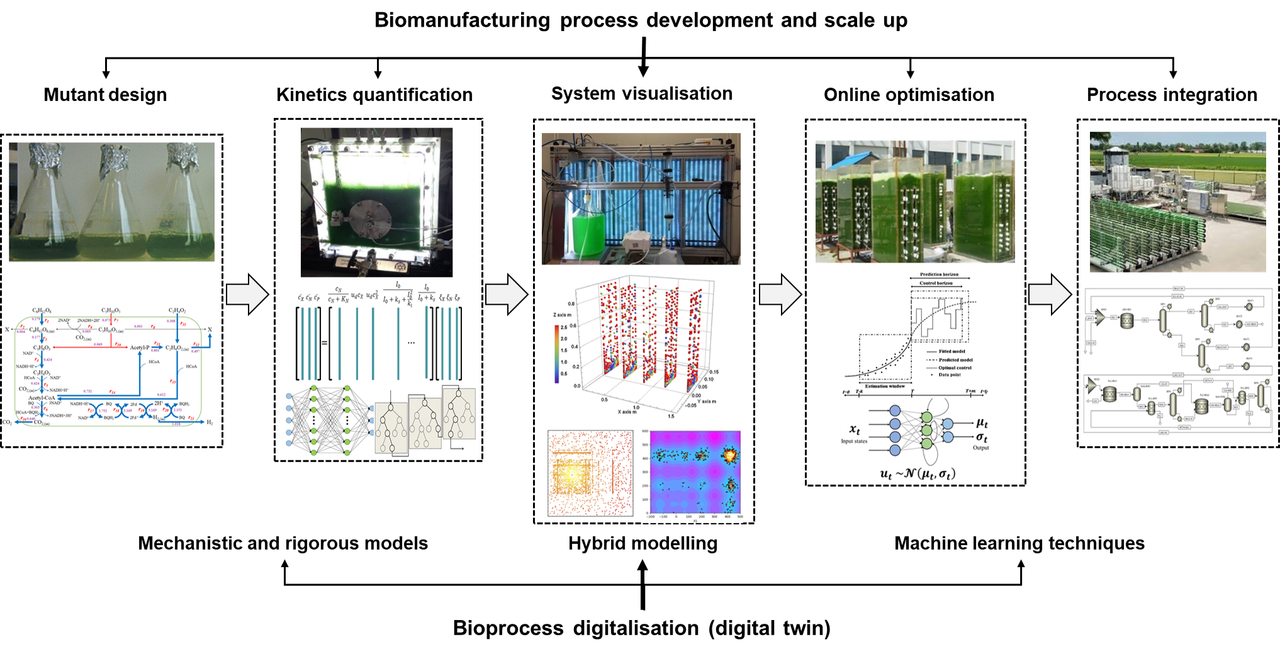 Machine learning enabled data-driven techniques for industrial manufacturing process quality control and process flow diagram development.

Interpretable AI based frameworks to discover physical knowledge and generate mechanistic expressions for reaction engineering applications.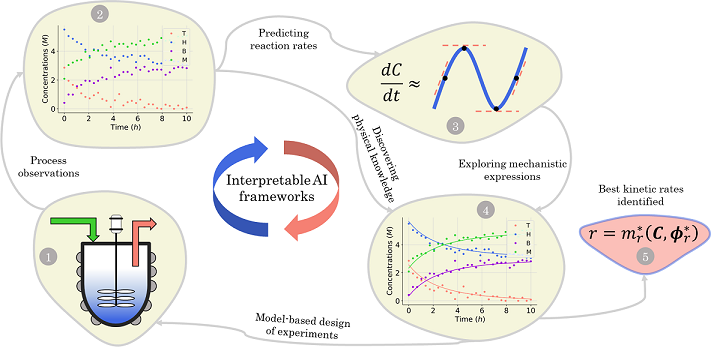 Biography
PhD in Chemical Engineering, University of Cambridge, 2013-2016
MSc in Advanced Chemical Engineering, Imperial College London, 2012-2013
BSc in Chemical Engineering and Technology, Tianjin University, 2007-2011
My group
We warmly welcome ambitious students who are interested in the fields of machine learning, reaction engineering, data analytics, process systems engineering, and biochemical engineering to apply for PhD positions. Currently, all our PhD students are fully sponsored by various scholarships. We are also actively seeking competitive undergraduate students who are enthusiastic about undertaking industrially focused research internship projects. If you are interested in these opportunities, please don't hesitate to contact me via email: dongda.zhang@manchester.ac.uk.
Expertise related to UN Sustainable Development Goals
In 2015, UN member states agreed to 17 global Sustainable Development Goals (SDGs) to end poverty, protect the planet and ensure prosperity for all. This person's work contributes towards the following SDG(s):
External positions
Member of Industrial Management Board, Centre for Process Analytics and Control Technology (CPACT)
2021 → …
Subject Editor for Digital Chemical Engineering Journal, Elsevier BV
2021 → …
Guest Editor for Bioengineering Special Issue 'Biological Process Modelling, Monitoring and Control in a Rapidly Changing World', MDPI AG
1 Jun 2020 → 31 Jan 2021
BBSRC Research Committee Pool of Experts, Biotechnology & Biological Sciences Research Council (BBSRC)
2020 → 2023
Member of Editorial Board for Biochemical Engineering Journal, Elsevier Ltd
2020 → …
Honorary Research Fellow, Department of Chemical Engineering, Imperial College London
2018 → 2023
UKRI Future Leaders Fellowships Peer Review College, Science & Technology Facilities Council (STFC)
2018 → 2021
Areas of expertise
TP Chemical technology

Process Systems Engineering

Biochemical Engineering

Machine Learning

Dynamic Modelling and Optimisation

Reaction Engineering

Complex Biosystems

Synthetic Biology

Fermentation Technology

Digital Economy

Data-driven Modelling

Computational Fluid Dynamics

Life Cycle Assessment

Renewable Energy
Research Beacons, Institutes and Platforms
Energy

Biotechnology

Digital Futures
Fingerprint
Dive into the research topics where Dongda Zhang is active. These topic labels come from the works of this person. Together they form a unique fingerprint.
Collaborations and top research areas from the last five years
Recent external collaboration on country/territory level. Dive into details by clicking on the dots or